Uruguay is dwarfed by Argentina and Brazil but this South American country is slowly emerging from the shadows cast by its neighbors. Montevideo is the country's capital, and it is now becoming one of the top destinations in the continent. With its flat coastline and grassy plains, Uruguay keeps a low profile naturally. It is an unhurried place where modern development and colonial architecture balance each other out.
In the past years, Montevideo has made a name for itself as one of South America's most livable cities with free education for all and advanced social policies. If you add the miles of beaches boulevards, pleasant sea breezes, and temperate climate, you will understand why this city was bound to be noticed.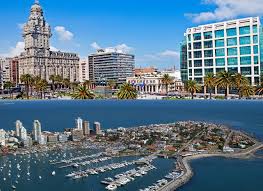 From Montevideo's Telecommunications Tower in the harbor, you can see the lone hill that first gave away this country's presence about 500 years ago. With the Spanish yearning to expand Argentina and the Portuguese claiming the land for Brazil, both nations quickly forged strategic fortresses and ports. This rivalry led to a war that lasted for more than three centuries, with Uruguay slipping in and out of the grips of Brazil and Argentina.
Visit the mausoleum in Plaza Independencia for Jose Artigas a revolutionary hero who gave up his freedom for the liberty of his country. Above the ground, his statue faces the Palacio Salvo eclectic design. This skyscraper was once the tallest on the continent and it is still a national pride.
The Plaza Matriz is the oldest square in the city and you will find an 18th-century Metropolitan Cathedral reaching for the skies. Step inside and enjoy a moment of quiet contemplation under the majestic roof. Although this Catholic church is still this city's focal point, the multicultural locals are of many faiths. With Spanish and Portuguese blood running through their veins, it is no surprise soccer is a unifying factor of the 'Montevideanos'.
Sports rivalries apart, the locals live in harmony with their Brazilian and Argentinean neighbors and were quick to embrace their culture, hospitality, and architecture. Ever since the colonial days, Carnival has been as important to this city as it is to Rio. It all started with African slaves just like in Brazil who dressed up and paraded on the streets for harvest fest.
You can also get a taste of Brazil's vibrant beach culture in the Uruguayan capital. Take a little break from exploring the city and join the locals for a fun game or a refreshing swim on De Los Pocitos Beach. If you need further proofs that Uruguay combines the best of both worlds, join the locals at Mercado del Puerto for lunch. From the barbecue smells coming from its roof, it is clear that Uruguayans are as passionate as the Argentineans about "parilla". First, choose from cuts of home-grown lamb or beef at a market stall before having the experts grill for you on the spot.
Although Uruguay may be small, its relaxing vibe and the big heart will help you create a lifetime of memories. Every time you see the outline of a setting sun, get a whiff of a smoking grill and feel a sea breeze, you will smile when you think of Uruguay.